IT Services For Salt Lake City Manufacturing Companies:
Frustrated With The Lack Of Responsiveness And Slow Service From Your Current IT Services Company?
Give us a call and discover how great local IT services and computer support can be!
Business Owners, Call Now For Immediate Support:

(801) 320-7445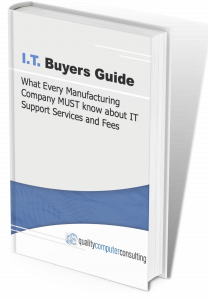 FREE GUIDE
What Every Manufacturing Company Must Know About Hiring An Honest, Competent, Responsive And Fairly Priced Computer Consultant
4 Big Reasons

to Choose Quality Computer Consulting to Support Your Manufacturing Company
Schedule Your Consult Today!
Features of Our Salt Lake and Utah County IT Support Services That Will Help Boost Productivity With Clients And Efficiency Across The Workplace
Enhance Efficiency With Quality Computer Consulting IT Support for your Manufacturing Company
At Quality Computer Consulting, we specialize in providing tailored IT solutions for manufacturing companies. With our expertise and commitment to security and efficiency, we help manufacturers excel in their field.
Our dedicated team understands the unique technology needs of manufacturing operations, ensuring customized solutions. We're experienced with various Manufacturing Resource Planning (MRP), Enterprise Resource Planning (ERP), and production management software applications, as well as security software required in manufacturing settings.
We prioritize data security and strict adherence to industry regulations for manufacturing companies. Our comprehensive IT solutions include the necessary safeguards, policies, and procedures to protect sensitive production data and ensure compliance with industry standards.
We offer cost-effective IT solutions, helping manufacturing companies maximize their investments while minimizing expenses. Stop losing money in your operations due to inefficient IT systems and unnecessary downtime!
See What Other Businesses In Salt Lake and Utah County Are Saying About Us…